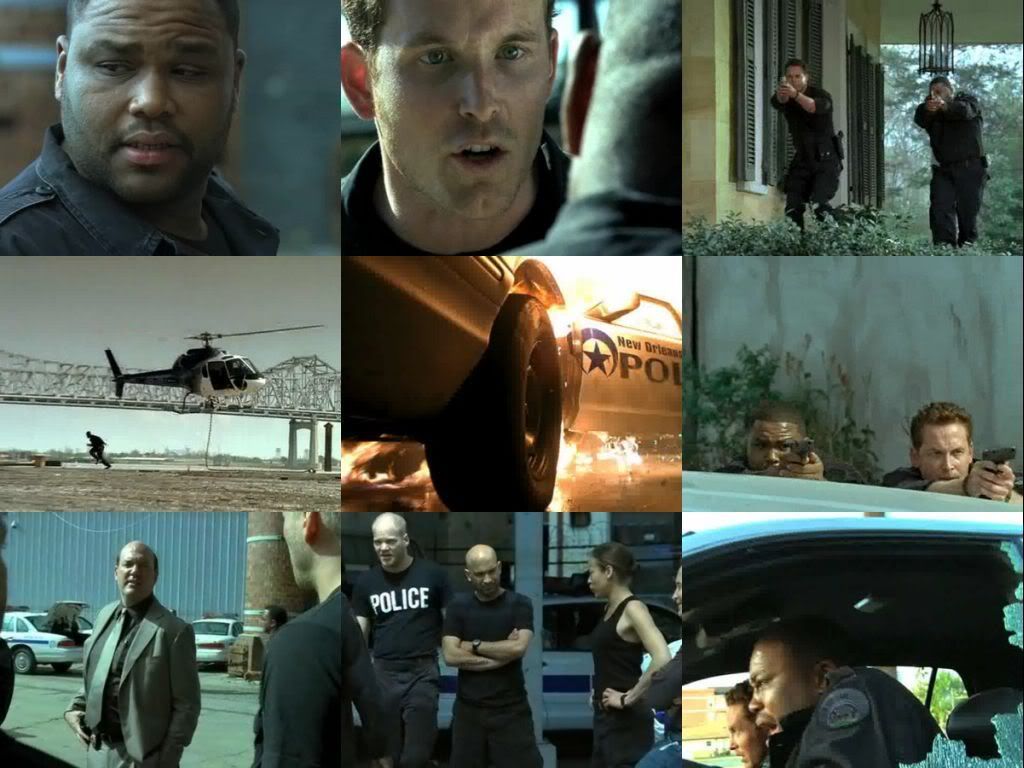 K-Ville


two cops are partnered in New Orleans

Type of Pilot:
Cop Drama; Action
Similar Shows:
Starsky & Hutch. It's basically about the friendship between two cops getting into car chases and shoot-outs (but K-Ville has a lot more distrust)
The Inner Light:
Everyone is looking for a second chance. With a wife, with a city, with life in general.
Strengths:
Great lead cast, setting, action sequences.
Weaknesses:
Pedestrian plotting. Standard A-to-B cop fare.
Impressive Characters:
Marlin Boulet stood his ground when Katrina hit. His partner ran, but Boulet stood his ground. Now, two years later, everyone figures he'll have a hard time trusting his new partner. Boulet is trying to get his wife and kid (and everyone else) to move back and rebuild the city. His passion to have the city re-built is his driving force. He has little else in his life and... he's a fascinating TV character. Into his life comes the mysterious Trevor Cobb. Cobb's a tough ex-soldier who's specifically chosen New Orleans as a place to become a cop. Boulet's not gonna trust anyone, but especially not a guy who has chosen the worst possible place to join law enforement. Cobb's real reason for coming to New Orleans adds a fantastic twist to the buddy cop formula and he, too, makes for a great new TV character.
Impressive Actors:
Cole Hauser has been a favourite of mine since his days on High Incident. He brings the same downplayed charm to this role. Anthony Anderson carries the whole pilot on his shoulders, and does it in splendid style. They are perfectly cast, and they are a perfect cast.
Less-Than-Impressive Characters:
Except for the two principle characters, the rest of the characters are bland and forgettable stock types. Take the captain from [fill-in-show-title], the tough-woman-cop from [fill-in-show-title] and two more SWAT types from [fill-in-another-show-title]. Give each of them random interchangable dialog and you have the idea. Awful.
Less-Than-Impressive Actors:
Hard to say, the writing makes people like guest star Sam Anderson look bad, so how can you tell you might actually be a weak actor?
Continuity:
Probably not going to be a lot. Probably just a lot of self-contained cases. The guys will chase bad guys, survive multiple action scenarios and grow closer in the process. Fox will probably show the third episode as the eleventh and only the die hard fans will notice.
Rewatchability:
None.
Other Info:
Airs Mondays at 9, up against Heroes.
Three Things I Really Like About This Pilot:




Cole Hauser


Anthony Anderson


The New Orelands setting.

Three Things I Really Don't Like About This Pilot:




Take away the New Orleans setting and you have a VERY ordinary show.


The supporting cast are bland.


The plot was straight from Cop Show Writing #101

Miscellaneous Comments:
I liked this, even as I was being disappointed by how ordinary it was. It works for me, because I quite like the idea of a buddy action cop show. And if using the New Orleans setting is a handy way to sneak one in under the wire then so be it. I do, however, think that FOX will not give this show a chance to find an audience. They show no patience with new shows, and I think it will disappear at Christmas and not appear again til Summer (when it will have already been cancelled). Watching a new FOX show is not about the show anymore, it's about how much FOX sucks at standing by their new shows.
GRADE: B-