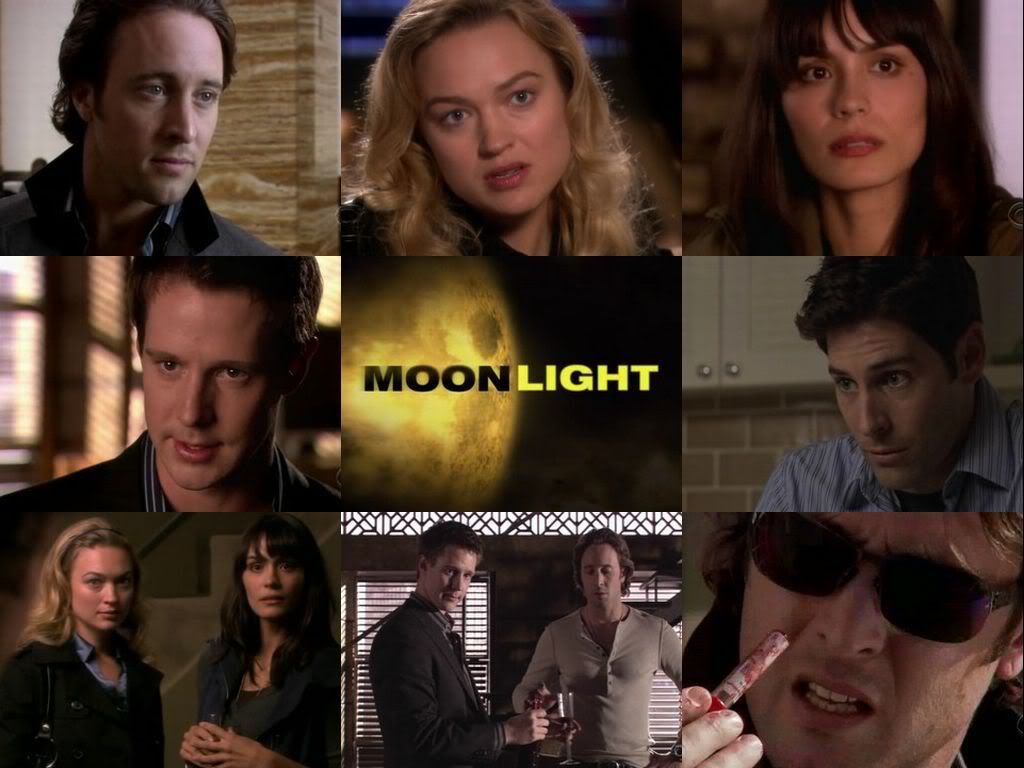 Episode 1. "No Such Thing As Vampires" Have we reached a stage yet, I wonder, where most of the vampires in television fiction are heroic detectives? Let's see: there's Nick Knight, Vachon, Angel, Henry Fitzroy and Julian Luna (who I don't think solved crimes, but was still heroic). The novelty of having a vampire as good guy diminishes somewhat when you consider that there are hundreds of nice vampires running around TV. Well... six, if you add Mick St. John to add to the list. Mick is exactly the same as the others. And the show is... exactly the same as the others. Forever Knight was the first and best, Blood Ties has already made it's mark as the 2007 version, so I'm not sure we need Moonlight. (If I don't watch it again, the one thing I will do is dig out my Forever Knight tapes and watch some of the best episodes again.)

Episode 2. "Out of the Past" is a huge step-up from the pilot and - suddenly - the show seems like it might be worth watching. David Greenwalt (the genius who worked on awesome shows like Jake 2.0, Buffy, Angel, Jake 2.0, Profit and Shannon's Deal, plus Jake 2.0) delivers a top-notch script where an old foe (from 1983) is released from prison and - knowing that Mick is a vampire - sets out to get revenge on our hero. The script is pitch perfect. The guys plots is simple but very clever and Mick is very well written and played from start to finish. The shows ends with another awesome action sequence and - best of all - it is Beth Turner who saves the days and kills the bad guy before he kills Mick.

I'm not warming to Sophia Myles the acress, however, but Lisa Sheridan (from Journeyman) has a great guest role. I wish she was the love interest.

Since I first read about both shows, I've thought of Moonlight and New Amsterdam as being in the same vein. ("Vein". Ha Ha. Vampire humour.) Now that I've seen both, I see that I was right and wrong in equal measure.

Both shows are about long-living solitary males who (in the pilot) meet their One True Love. So both shows are crime dramas with a fantasy spin and a strong romantic element. But, in terms of appeal, I think they will appeal to different audiences based on their leading men.

Alex O'Loughlin is a great lead for Moonlight. He's also very pretty. And, thus, is probably more of a Woman's Leading Man. While he is very cool in the role, he's not the sort of man that men at home will identify with. And, thus, live vicariously through. While Nikolaj Coster-Waldau, over on New Amsterdam, is certainly very handsome he's not pretty in the way that O'Loughlin is. So, while it's also a very romantic show I think it stands a better chance of being a huge hit in the male demo, because he's more a Man's Leading Man.

Maybe I'm off-based here, but (assuming NA is aired/successful) I predict that it will have a very different fan-base.

Episode 3. "Dr. Feelgood" I'm still not impressed with Sophia Myles, but Jason Dohring and Alex O'Loughlin are superb. This episode isn't quite as good as Episode 2, but it's still much stronger than the pilot. We get to see the inner workings of the Vampire society when a newly-created vampire goes on a killing spree and Mick sets out to stop him. The script parallels what is happening now with what happened to Mick when he was first turned and this information is entertaining to the audience. The show has a good villain, slick action sequences and a wonderful scene with Jason Dohring at the very end. Definitely a show I'm starting to enjoy.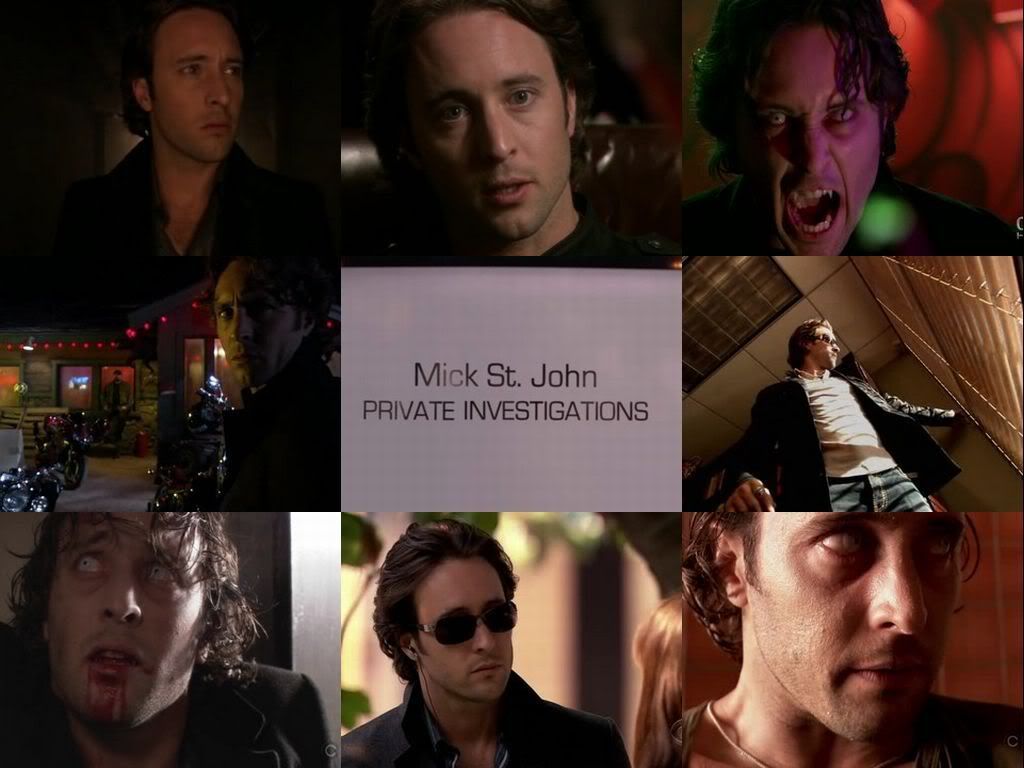 Episode 4. "Fever" Slick visuals, good action sequences, a great leading man, a cool central character, a good story and a powerful ending: this episode has a lot to recommend it. Moonlight may have arrived on my Viewing List in meek fashion but it's rapidly becoming a show that I really look forward to seeing. Best scene? Mick feeds on Beth. Powerful and moving in exactly the way the writers hoped it would be. Wow.

Episode 5. "Arrested Development" Every week, it seems, I find something new to like/love about this show. I'm even starting to warm to Sophia Myles. Wow. First off, I love the private eye aspects of the show. There are only a couple of scenes like that in this fifth episode, but I really loved them. Mick as the brooding, lonely pi tracing a lost girl - through a seedy world - for her decent parents. And what great casting! The parents (who only had a few scenes) absolutely radiated decency. Good, honest folk. Turning to Mick to help them. I love that kind of stuff. Likewise, the casting on the daughter was pitch perfect. Beautiful and melancholy in equal measure.

Apart from the private eye stuff, I loved the chemisty between Mick and Beth. Alex O'Loughlin is adept at comedy. Who knew?

Mix in the usual slick visuals and all-action finale and you have yet another winning episode of Moonlight.

Episode 6. "B.C." Not as strong as recent episodes, but that doesn't matter any more. I'm sold on Moonlight. I've passed the point where I would give up on it. I'm a fan. It's a cool show, with a style all it's own. And while this episode isn't weak by any means, it does fail to sparkle like some of the recent ones have. Not sure why. The central idea is very strong: Mick tracks a vampire who is killing her own kind so she can use their blood as a drunk to sell to non-vampires. Apparently it gives us a high. Interesting.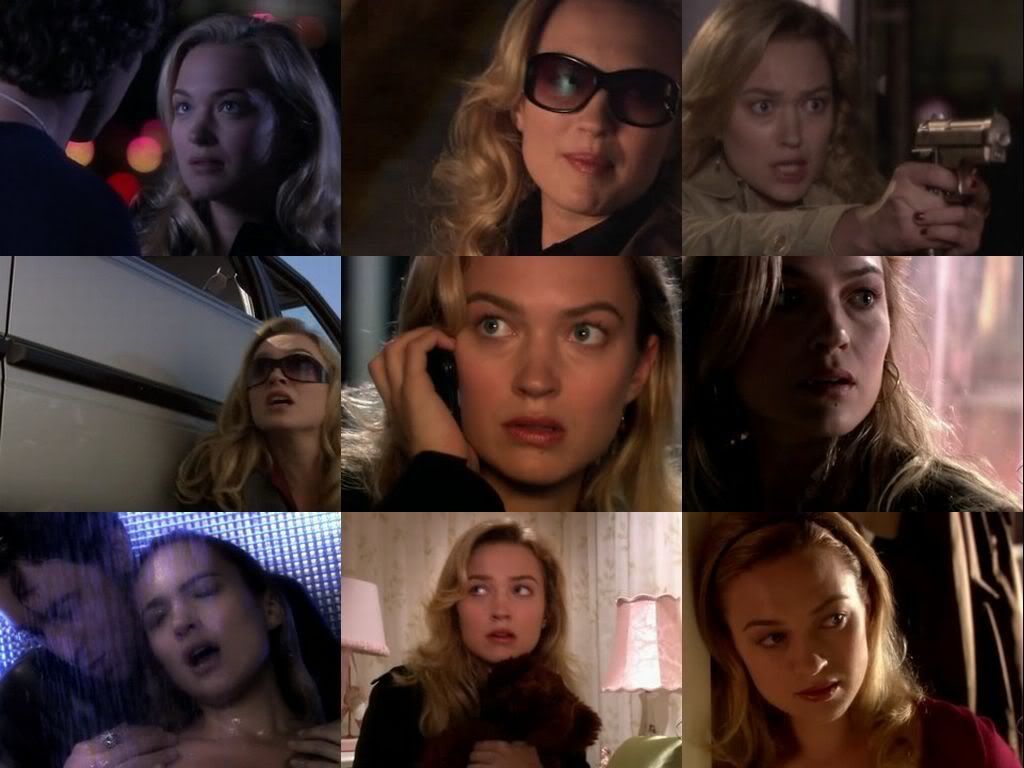 Episode 7. "The Ringer" Is she or isn't she? Hmm. A great episode. Easily the best that this cool show has thus far delivered. Aside from presenting us with a cool scenario, the episode scores major points with me by having the hero act smart. Or at least as smart as the viewer at home. Mick is faced with an exact double of the wife he "murdered" and is then entwined in a case which exactly parellels his last night with the lady in question. It's such a terrific story and his logic as he tries to figure out what is going on is flawless. Where did the producers find Shannyn Sossamon? She blows everyone else off the screen. I want her to launch a vindictive crusade against me!

Episode 8. "12:04 AM" An average outing is helped by some great Mick/Beth scenes (this is the episode where she finds out he's been 'stalking' her for years) and another great action-packed finale (the bad guy is a former cult leader who looks scary as frak and makes a formidable opponent, even if his motives make no great sense).

Episode 9. "Fleur de Lis" Almost as good as Episode 7. Moonlight is on a roll, I think. The balance between case-of-the-week and ongoing-plots is perfect here. So is the relationship dynamic between the three leads. Shannyn Sossamon simply burns the screen up as Mick's new partner in his latest investigation (he has hired her to take photographs as means towards making amends for what happened back in Episode 7). The Mick/Morgan dynamic is far more interesting than the Mick/Beth dynamic, I feel, but the contrast between Morgan and Beth is simple superb. The casting here has been simply superb. And using Beth as the narrator for this story (the one where she stabs Morgan) was a touch of genius. From an average pilot, Moonlight has emerged into one of the highlights of the TV week. Just by writing about the characters and making them interesting.




Episode 10. "Sleeping Beauty" is a filler episode, at least as far as the ongoing Coraline storyline is concerned. She hasn't died (as a result of being stabbed by Beth last week) but she spends the episode in hospital, while Mick and Beth help Josef who has been targetted for assassination. Along the way the producers go the predictable route of revealing that Josef is... a big softie at heart. He's a romantic, really, and not a cynical playboy. It's a dreadful cliché, but - at least - Jason Dohring is superb in the role. The best thing about the episode are the parallels drawn between Josef's past and the burgeoning relationship between Mick and Beth. At the very end, Coraline vanishes from the hospital...

In other business, I've noticed that the characters at Beth's workplace are all crap. Her annoying boss, who shows up and plays the exact same scene week-after-week, is really starting to annoy me. And, this week, they introduce a new tech whiz character who is very annoying and totally unconvincing. Not what the show needs.

What does the show need? More Coraline!

Episode 11. "Love Lasts Forever" WOW. From inauspicious beginnings, Moonlight has become something of a highlight of the week. This episode is fantastic. Josh (Jordan Belfi) goes after a drug lord who, in turn, goes after Beth. Which puts Mick on the firing line (protecting her). It's a fast-paced, emotional, episode which stands out as the highlight of the series so far. It's very cool, very exciting and Sophia Myles does her best work in the show so far. The first attack (the sniper) looks amazing on screen. Mick and Beth emerge into the sunlight, both looking supremely cool in their usual dark glasses, and within a second Mick hears the sniper and reacts. Everything is slowed down and it looks amazing, particularly the part where he pushes her one side of the bullet and leans the other side himself. How frakkin' cool was that?

The second attack (the kidnapping) takes up the middle twenty minutes of the episode and has to be one of the finest chase scenes I've ever seen. It was extremely well planned and logical and is easily the most realistic chase I've seen in a fantasy series. It was fast, violent, clever and thrilling. The logic for the actions of the kidnappers makes sense, as does the logic for Beth and Mick's method of tracking Josh. Far too many TV kidnappings take place on the cusp of the approaching commercial and leave the hero standing impotent as the bad guys speed away. How cool to see TV heroes going after the speeding car? Mick doing it on foot, no less. With this character the writers have created a brand new credible super-hero. The battle in the park was stunning. The shows uses slo-mo in all the right places when Mick goes into action it's always a thrill ride. His leap across the roof of the car is one of the coolest things I've seen in a long time. Again, I say WOW.

The third attack (with Mick on the offensive this time) was just as cool as the others: a bar room brawl with lots of casualties. The episode had some truly shocking twists, including some heartbreaking romantic moments for it's leading characters and didn't ignore the Coraline mystery (but found a clever way to include it in a minor way). This episode was pure perfection. And the show, in general, isn't far behind it. A+

Episode 12. "The Mortal Cure" Moonlight is a show of considerable visual style. Part of what has helped it to create such a strong identity for itself. A weak Beth sup-plot (she thinks she's found Josh's mistress) doesn't spoil another great episode. Coraline is back, and with her comes the backstory which finally explains how she was cured of being a vampire. It's a great backstory and introduces a great new bad guy, and lots of story potential.

Episode 13. "Fated To Pretend" I think I was more exited by the return of Moonlight, than I was by the return of Lost. Crazy, huh? Well, not really. Moonlight left it's characters in lots of bother. Mick is no longer a vampire and he and Beth are no longer on great terms. Plus, Coraline (my favourite character) is in a lot of danger. No wonder I was eager to see the show return! Did it disappoint?

Well, I was disappointed to see Coraline left out, but it was still a fantastic episode. The show still looks cool and stylish, it tells good stories, has superb action sequences and has a sweet romance at it's core. A regular character that I found annoying is killed off (yay!) and the resulting case-of-the-week is one of the best the show has done. Since it spirals off into three different directons. The episode made more use of Josef than normal and that is always a good thing. Seeing him kick ass at the end was awesome. The end of the episode was predictable, but no less effective for it. Sad. But that was a great kiss.

Episode 14. "Click" My reviews of this show are repeditive. I always end up saying the same stuff: It looks cool and stylish, it tells good stories, it has superb action sequences and it has a sweet romance at it's core. Yet, this case-of-the-week driven episode is nothing like the last few episodes. In a ripped-from-the-headlines storyline an A-list actress dies and Mick and Beth investigage. The episode opened with a slick car chase, which was a lot of fun to watch. The story gave both Mick and Beth a reason to be jealous of someone their partner was with, yet it avoided making either character behave in a juvenile or predictable way. When Mick left Beth and ran off to talk to the girl of the week, Beth didn't pout or act like a child. She was like a real person. And the episode was littered with simply adorable moments of them as a couple. Beth has won me over. She's nothing like Coraline, so I can see why Mick would go for her.

The episode's best scenes were the ones devoted to Josef. First, a cool scene with Mick which reflects how their relationship has changed. Second, a chilling scene with Beth where she goes to him in a time of need to do something horrible... to protect Mick. A great twist. I love it!

Episode 15. "What's Left Behind" is a bit of mixed bag. It has a great story, the promise of great developments for the show's future (ha!) and a major advancement for the character of Beth. It's great. But it also has a really lame bad-guy (lots of false tension at the climax: why would he bother to go after Beth? That makes no sense.) and it totally backs away from the idea of giving Mick a family. Shame. One of the strengths of (the very similar) New Amsterdam is that he has offspring. In fact, they did a very similar episode on NA. And they handled this aspect much better, it must be said.

The story here, however, is great. Mick investigates the kidnapping of a child, a child that may - in fact - be his grandson. We get some great flashbacks to his pre-vampire life and it fits in wonderfully with what we know about him. It's also interesting to see him falling in love with a woman who so closely resembles the woman he would eventually marry. By doing this, the writers show us that Mick has a specific type and show us how much of a departure Beth is for him. It's great.

He's always gone for femme fatales (bad girls). Beth is so the opposite of them. She's consequently perfect for him. Her self-sacrifice is astonishing. Giving up her job so that she can stay close to him? Wow. But, it's so frustrating that they are taking it so slow in this relationship. The scenes between Mick and Beth are electric. He pours his heart out, and she gazes at him her eyes full of tears of understanding and empathy. Why couldn't we get one kiss in the middle of all this? Just one kiss?

With regard to Beth on her own, this episode does wonders for her. Without the crutch of Buzz Wire to get her involved in stories, the writers use her own abilities. She comes across as a clever and resourceful detective in this one, and it make sense that she would be offered a job at the end. Great stuff. Can't wait to see how this plays out in the second season (ha!).

One lame villain aside, this is still a fun episode of Moonlight.

Episode 16. "Sonata" A great finish to a great series. Sure, they left a lot of things up in the air, but they really went out with a great episode. The story gives us another view inside Vampire Society and introduces us to a tragic couple. The couple are used to make Mick and Beth (and us!) think about their future together. And it works. Superbly. The vampire couple reach a sad end and it prompts our favourite couple to do some hard-thinking. The ending won't leave a dry eye in the house, but - at least - you do feel that you've seen a story to it's ending.