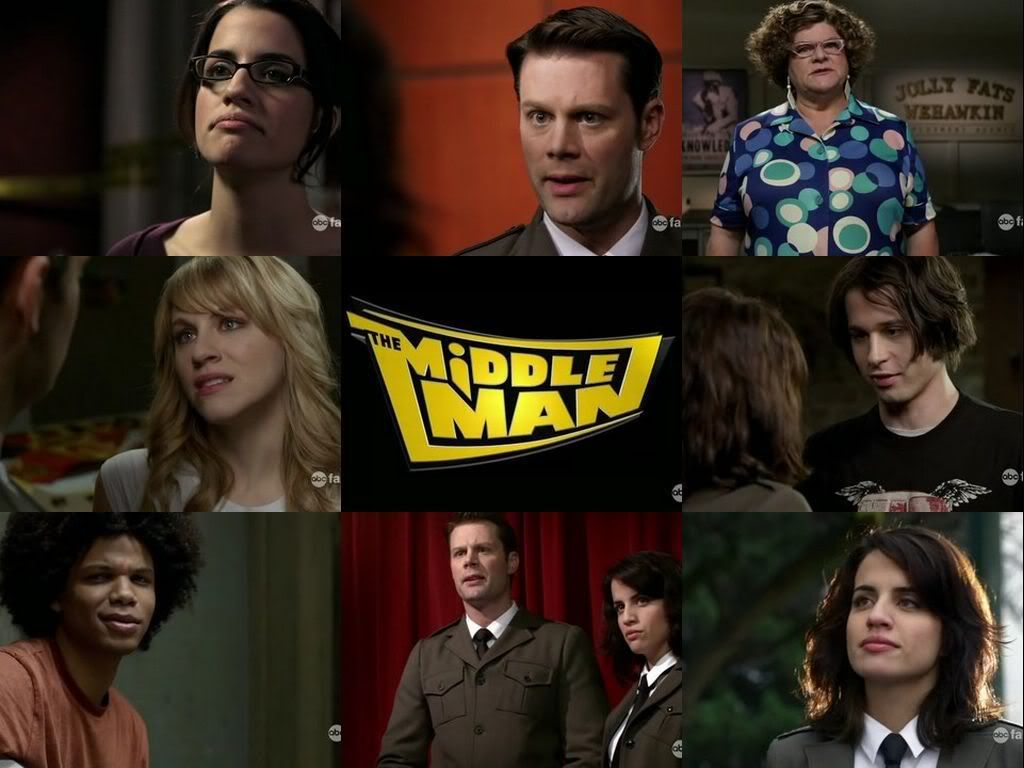 The Middleman


girl becomes superhero sidekick

Type of Pilot:
Fantasy; Action; Comedy
Similar Shows:
Doctor Who (girl whisked away to life of adventure by mysterious man), Once A Hero (quaint superhero in modern world), Reaper (under-achiever fights evil),
Strengths:
Natalie Morales in a tie. Very sexy.
Weaknesses:
You either "get it" or you don't. A love it/loathe it show.
Impressive Characters:
Wendy Watson (what a great comic-book name) is impressive from the get-go. She's witty, spunky and looks great in a tie. She rolls with the punches of this odd world she lives in and I'm totally willing to follow her adventures. The Middleman, himself, is a fascinating character. His speech patterns, outlook on life, liking for Wendy and choice in driving music are all brilliant.
Impressive Actors:
Natalie Morales is hilarious in the lead role. Quickfire deadpan delivery. Matt Keeslar nails the out-of-this-world quality of The Middleman perfectly. Mary Pat Gleason is hilarious as the secretary and, although he has a small role, Jake Smollett makes a big impression as the guy in the hallway with the guitar.
Less-Than-Impressive Characters:
The roommate girl and the boyfriend were a bit bland. I presume future episodes will give these characters more to do, since this episode was more about setting up Wendy and this odd world she lives in.
Less-Than-Impressive Actors:
As far as I could tell, this is a solid cast across the board. Brit Morgan and Stephen Sowan are given very little to do here, but what screentime they do get is very good.
Continuity:
I presume each episode will detail an oddball case-of-the-week.
Rewatchability:
Lots. I can't wait to see this pilot again and savour all the one-liners.
Other Info:
Based on the graphic novels by Javier Grillo-Marxuach and Les McClaine.
Other Review:
The Futon Critic
.
Three Things I Really Like About This Pilot:




Natalie Morales in a tie. Very sexy.


The references to things like The Flash comic, The Avengers tv show and the Shaft movies. I mean, who is this show aimed at? Specifically at me? Whoever is meant to be watching it, I sure will be!


It was laugh-out-loud funny from start to finish. As such, it is impossible to pick out a Best Scene.

Two Things I Really Don't Like About This Pilot:




The wonderful Mary Lynn Rajskub is somewhat wasted in a brief guest role. It's Mary Lynn Rajskub, for frak sake! She should be a recurring baddie or something.


It's just too brilliant to succeed. I loved it. But this thing has cancellation written all over it. I'm not sure anyone will "get it".

Miscellaneous Comments:
Natalie Morales in a tie. Very sexy.
GRADE: A+