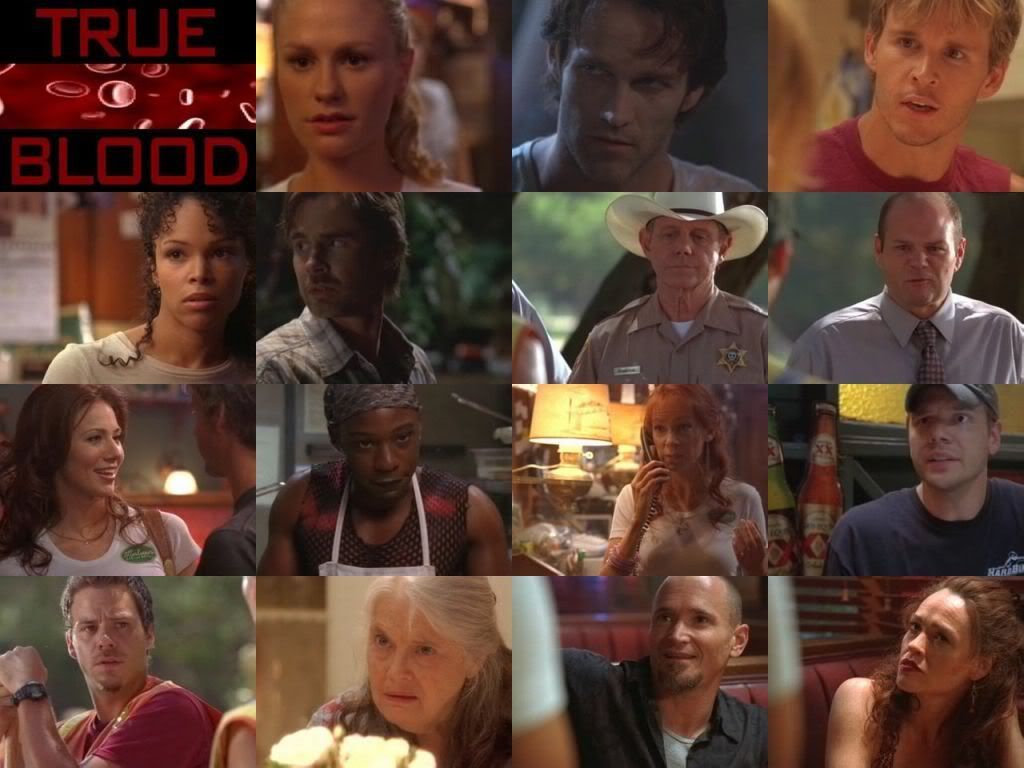 True Blood


a mind-reading waitress befriends a vampire in a world where they are just another minority group

Type of Pilot:
Fantasy Soap
Similar Shows:
Kindred: The Embraced (loads of vampires and none of them are cops or private eyes!!), American Gothic (small town sex and darkness)
The Inner Light:
Vampires have "come out of the coffin".
Strengths:
Anna Paquin running around in a white t-shirt and shorts is no bad thing. And she kicks ass when she has to. And she reads minds. All of that is good (particularly the white t-shirt and shorts!).
Weaknesses:
It takes a while to "buy into" the ideas that this show is offering. I didn't really connect with it until it was half over. By the mid-way point I had gotten used to the weirdness and started to pay more attention to the characters. But, to be honest, none of them were particularly compelling.
Impressive Characters:
Hmm... That's a tough question to answer. They are an odd bunch. Sookie Stackhouse (the main character) is more strange than anything else. They are all a bit strange. Interesting, but strange. I'm not sure, however, that I would be interested enough to visit them every week...
Impressive Actors:
Anna Paquin is good. I've not seen her in anything other than The X-Men so I can't be sure: but she appears to doing here exactly what she does there. Which is fine by me. I like her. None of the rest of the cast really stood out. Stephen Moyer, Ryan Kwanten, Brook Kerr and Sam Trammell played the boyfriend, brother, best-friend and boss. (Moyer's not actually the "boyfriend" but he's certainly the love interest and I liked the alliteration!!)
Less-Than-Impressive Characters:
Despire their strangeness most of the characters are rather bland. Sookie's brother is having a lot of unusual sex, but he's not particularly memorable. Her best friend is prone to shouting at random strangers, but none of it was particularly good or funny. Her boss has a crush on her, but is as dynamic as ten year old wallpaper. Even the dark, mysterious vampire that walks into her life is curiously unexpressive and detached from it all. The cast is rounded out by some other people that work with Sookie, some guys that work with her brother, a couple of cops and Sookie's grandmother. It's hard to introduce a large cast successfully in a pilot and this pilot... doesn't succeed.
Less-Than-Impressive Actors:
Hard to blame the actors when the writing is this... unusual.
Continuity:
Lots.
Rewatchability:
None.
Other Info:
Based on the "Southern Vampire" series of books by Charlaine Harris. It has been adapted for television by Alan Ball. The opening theme music is "Bad Things" by Jace Everett.
Other Review:
The Futon Critic
.
Three Things I Really Don't Like About This Pilot:




It takes a hell of a long time to accept this world that the show is setting up. Not just the fact that Vampires are an openly acknowledged part of society, but the fact that everybody else in town is so openly sexual and Sookie... isn't. It's all rather odd.


Lafayette Reynolds, the gay chef, is very annoying.


Too many characters.

Miscellaneous Comments:
It's an acquired taste, and I haven't made my mind up yet. I have a funny feeling this will have a hard time finding an audience.
GRADE: B-