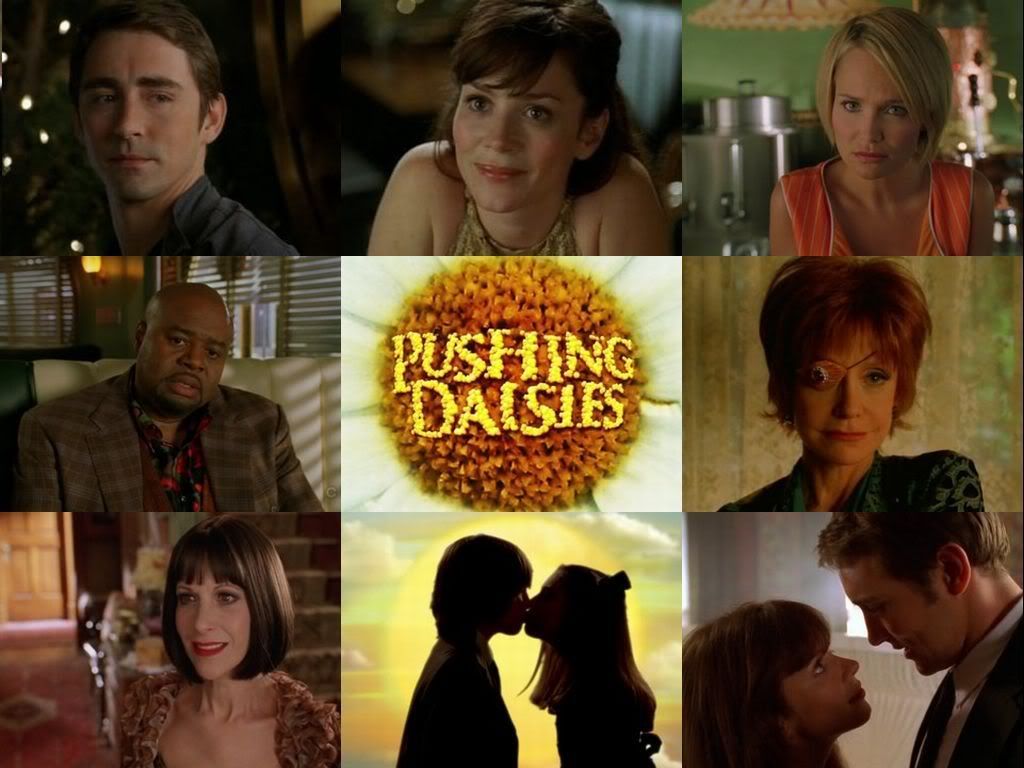 Episode 1. "Pie-lette" No review can do this justice. It has to be seen to be appreciated. It's poetry on television. Wistful and lonely, while making you laugh out loud. It's beautiful. A genuine pleasure to watch. You sit there watching it and you've got a great big grin on your face. It's wonderful. Not since 24 or Lost has a pilot so excited me on first viewing. But this time it's not a dark vision of the world. A lonely one, yes, but it's a fairy-tale world this time. And fairy-tales must have happy endings. Mustn't they?

Episode 2. "Dummy" Some fans/critics wondered if the show could possible duplicate the pilot. Could it be that good? Every week. This amazing second episode, I think, answers the question. When we sit down to watch Pushing Daisies every week we will be entering a very unique vision of the world. And it is a wonderful world. A world of flower-powered cars, heartfelt musical numbers and stunning visuals. After the pilot I was crazy about Chi McBride, Anna Friel and Lee Pace, now I'm more than happy to add Kristin Chenoweth to the list. I thought Olive would simply be comic relief, I had no idea they would put so much heart and emotion into the character.

Episode 3. "The Fun In Funeral" I'd already watched one of 2007's New TV Heroes go up against a sword-wielding maniac tonight, I didn't think I'd see another awesome sword battle so soon. Let alone in the fairytale world of Pushing Daisies. But that's what happened. PD cleverly uses it's own mythology to generate a lot of the stories in this episode. The guy that Lee killed in the pilot is back to haunt him (sorta) and Olive Snook goes to visit Chuck's aunts and (in the standout moment of the episode) figures out who Chuck is. Pushing Daisies looks like nothing else on TV. And I love it.

Episode 4. "Pigeon" Another delightful outing from the Pie Maker and his friends. The show is very comfortable in it's voice now. It has a visual style and rhythm of language that comes easily. In some ways, it reminds me of early Moonlighting.

A place crash, two dead bodies, lots of scenes for Chuck's cool aunts, plenty of snappy dialogue, another song from Kristin (almost), and a plethora of oddball ideas highlight this story of an escaped convict in search of hidden diamonds. The story has more coincidences than you could shake a fake wing at, but that's only because the writers have correctly sussed that none of that matters in this mad world they have created. And they are right. The more outlandish the co-incidence the more I loved it.

My only gripe? Kristin Chenoweth (who has the absolute best cleavage on TV) sings a song. Almost. Her rendition of "Birdhouse In Your Soul" (one of my favourite songs) is used as background filler. Barely. We jump in mid-song and, seconds later, she is Shushed! and stops singing. Which sucks. I want more singing!

Episode 5. "Girth" The utterly-adorable Olive Snook takes centre-stage when her past comes back to haunt her. This change-of-pace episode shakes up the established formula of the series in a few ways. First, the team of Chuck, Ned and Emerson is broken up and given different things to do. Second, and more important, there is a downplaying of the romance between Ned and Chuck, which could be seen as the cornerstone of the show. These changes makes the episode the freshest and most enjoyable since the pilot and shows that the style and tone of the show are more important than the actual content. Much as I like the Chuck and Ned stuff, we don't need to see them gazing at one another in every episode.

Episode 6. "Bitches" Once again viewers are drawn into a very strange world. Wonderful and colourful, always delightful, but certainly strange. When a man with four wives is murdered in the most inventive sequence I've seen on TV in quite a long while, suspicion falls upon the four women in question. In a move guaranteed to make fans jump up and down with glee, our favourite three detectives add Olive Snook to the team. Were you jumping up and down with glee? I was.

The balance between case-of-the-week and ongoing-romance has never been better. The case was completely engrossing, and superbly cast. Always great to see Jessica Lundy and how hot was Christine Adams as a foil for Emerson? I hope she returns in future episodes. Together they made for the best Emerson scenes since the pilot. Olive's scenes, however, were more heartfelt and thoughtful. The writers are cleverly using the character to give new perspective on the Ned-Chuck romance, and the case-of-the-week fed into that better than ever before.

Episode 7. "Smell of Success" For once the dialogue didn't sparkle. It seemed contrived and false in the opening scenes and some of the episode that followed was a bit weak, too. Especially the stuff concerning the aunts. I think I'm over them now. They need to be brought into the fold, with regard to Chuck being alive. The case-of-the-week was quirky and interesting, however, but Paul Reubens was underused.

Episode 8. "Bitter Sweets" is the most inventive and delightful episode so far. Sparkling dialogue and an unusual world-view make for another wonderful hour of TV. PD grabs you and pulls you into it's world with increased confidence every week. But, this week, the writers play around with the show's formula in many ways. The case-of-the-week is as clever and off-the-wall as ever. But it is dispensed with a quarter of the way in, and replaced with a storyline about duelling stores. Quirky and enjoyable as this is, there is yet another twist furher down the line. Murder and mayhem ensue. Dialogue continues to sparkle. The script successfully places a sub-text and depth to the shenanigans. And it all comes to an end with a humdinger of a cliff-hanger. A real "Wow" moment.

Although Molly Shannon (deservedly) got all the hype for her guest appearance I, personally, was most delighted to see Steve Hytner (of Seinfeld) and Mike White (of School Of Rock) doing hilarious guest turns. Shannon will surely be back, but I wish we could see more of White.

Episode 9. "Corpsicle" Pushing Daisies reminds of Moonlighting in many ways. It's got a romance at it's core, it's got lots of snappy dialogue and fast paced talking, it's a got a very skewed view of the world and there is nothing else on TV like it. Best of all, there is an underlying sadness and lonliness to the central characters. My favourite season of Moonlighting is the 4th. It was a study in lonliness. And it was eloquently written.

Episode 9 of Pushing Daisies joins The Pie-Maker and The Girl Called Chuck in the midst of their first fight (following last week's stunning cliffhanger). Amid another kooky case-of-the-week and hilarious one-liners, there is palpable heartbreak to be found in the scenes of the two lovers fighting. The writing is honest and it always feels like a real fight between two people who love one another. Anna Friel has never been better. Likewise Lee Pace. Nothing much is resolved, and we end with a truly stunning cliffhanger. Fade to black.

I will miss this show so much. Sigh.