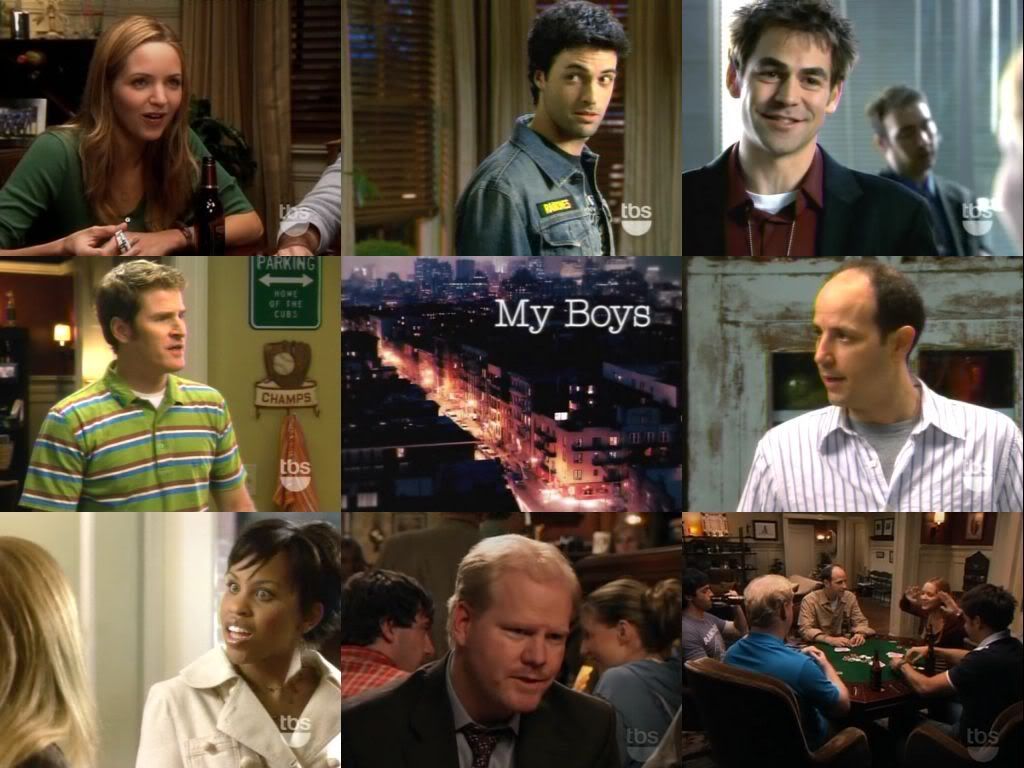 Episode 13. With "Baseball Myths" My Boys reached it's mid-season finale. Perceived wisdom dictates that the best new sit-com to emerge last season was 30 Rock, but (much as I love 30 Rock) I think my heart belongs to Jordana Spiro and the gang on My Boys. Spiro is just so darn cute, so darn adorable and so darn hot (a tough combo to pull off, I know it leaves me drained), and her ensemble are so perfect together that it's hard to put 30 Rock ahead of it. Rock had, I feel, a few growing pains, and only became really funny in the latter half of the season. Boys hit the ground running and delivered comedy-gold from the onset. This episode saw the gang celebrating a birthday, realising that the wife of one of the 'Boys' wasn't actually the ogre he makes her out to be, and - most importantly - it saw our heroine getting a very hot, very passionate kiss. From one of the 'boys' no less. Now that's a cliffhanger!

Episode 14. "The Promise Of A New Season" picks up the action six months after the events of #13. We learn that PJ and Brendan didn't progress anywhere after their kiss, and now they are back to the way things were before. Except that - occasionally - you could cut the tension between them with a knife. My Boys has a lot of strengths, and one of them is ability to capture real-life scenarios and play them out in a believable way. Oh, and make it hysterically funny.

Episode 15. "Off Day" This episode is about breaking a winning streak, when PJ goes on a local TV show, totally sucks, and none of the Boys can tell her. I feel a little like the Boys... This is easily the weakest episode of the run. It wasn't funny, and there was nothing much to relate to. Pretty disappointing in a show who's strength is an abundance of 'hey-that-happened-to-me' moments.

Episode 16. "Ethics" After a dud episode, My Boys rebounds with one of the funniest of the run so far. Sports-journalist PJ falls for the charms of a new Cubs player (Travis Schuldt) but to date him means crossing a professional line. It's a heartfelt storyline and the chemisty between the actors is great. While this is going on, the Boys (including Stephanie and Trouty) are caught up in a feeding frenzy surrounding a list of Chicago's hottest bachelors. Jim Gaffigan steals every scene he appears in, especially when dressed in a tux blending into a party.

Episode 17. "Dirty Little Secrets" Seventeen episodes and this brilliant sit-com has stayed true to it's central concept. It's about a girl in the middle of group of male friends and they meet every week for poker. This episode's opening minutes were devoted to the gang arriving for the poker game and the banter, back and forth, was hilarious. They discovered that one of the Boys was actually rich and never told them. In fact, all of the plots were about money/wealth in one form or another. I notice the show is getting more continuity-heavy as it goes on, and that is fine with me.

Episode 18. "Second Chances" Two plots, both funny. PJ is contacted by an ex from a summer seven years, and she goes all 'girlie' at the mention of his name. Lots of laughs in that. Meanwhile, two of the Boys go into business together. Flawless.

Episode 19. "Douchebag in the City" A very clever, but not very funny, episode where PJ is visited by four girls who are exact copies of the girls from Sex And The City. It's a great idea. And the casting/execution is flawless. But it's not all that funny. Jennifer Baxter does a a flawless Kim Cattrall. Stealing the episode for me. Yes, even with Ryan Reynolds doing a cameo.

Episode 20. "The Estates of Hoffman" One of the best shows they have done. The gang hit the suburbs for a barbeque. Andy gets a shock or two: he's gonna be a dad, and he's grown up to be just like his own dad. While the show is hyterically funny (as evidenced by this episode) what makes it something special is it's accurate observations on real life, and real life situations. Andy's story here has a great poignancy. Jim Gaffigan proves that he's not just the scene-stealing funniest guy on the show, when he tones it down and plays it straight he's a good actor, too.

Episode 21. "110 Percent Solution" The best new sitcom of last season. Ahead of Notes From The Underbelly and 30 Rock. Two plots, continued from last week, drive this episode: Andy is still depressed over the arrival of his second child, and what it means for his life in suburbia. Meanwhile, the awesome Michael Landes (from Special Unit 2) is somewhat awesome as he tried to fit in with gang. This show never fails to nail real life situations. And the scene where Evan (Landes) tried to fit it, while totally failing to get the rhythm of the gang, was one of the best written and best played I've seen in the show.

Episode 22. "Rome, If You Want To" The best new sit-com of 2006/7 ended it's first run with one of the best season finales I have ever seen. It was funny, it had heart, it gave all the regulars something important to do, it brought back several characters from earlier episodes and - most important - it faded to black on a truly awesome cliff-hanger.