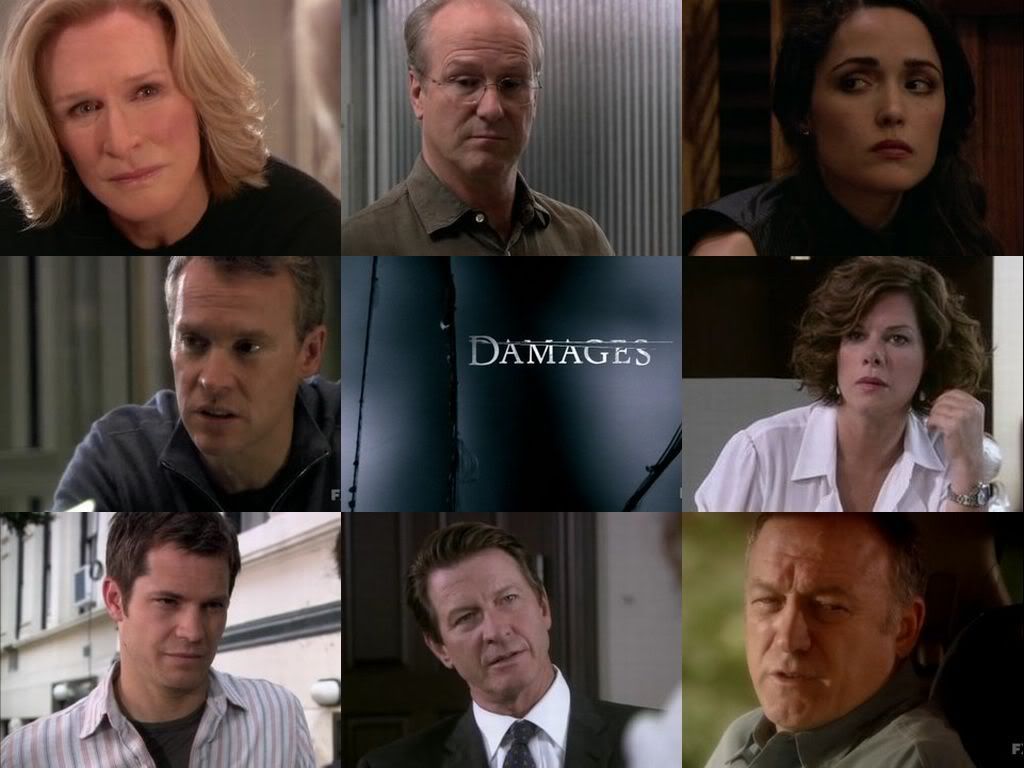 Season 2, Episode 1. "I Lied, Too" A month has passed, Ellen and Patty are both trying - in the own way - to deal with the events of Season One.

Superb opening episode to another one of television's consistently A+ shows.

I'm delighted to see Ted Danson back for the new season, and also delighted that the writers have devised a way to maintain the show's clever/unusual narrative structure.

So, who did Ellen shoot (if she did, in fact, shoot anyone)? Patty, Frobisher, Katie, Wes...

It could be anyone. Wes could be working for Patty, Katie or Tom might be more corrupt than we realise... There is no way of know. Yet. However, based on Season One, we can be sure that the journey to the revelation will be a thrill ride.

Season 2, Episode 2. "Burn It, Shred It, I Don't Care" Just like last season, every single line of dialogue from every single character is suspect.

In any given conversation between A and B, you have cause to wonder whether A is lying or not. And you then have cause to wonder whether B knows this and is just pretending to believe what is being said to them.

Which opens another can of worms. What if A is telling the truth, and B is wrong to think they are lying.

Such an amazing show. Causes as many headaches as Lost and Battlestar Galactica. And that's pretty high praise.

Season 2, Episode 3. "I Knew Your Pig" The story broadens out to include a reporter working with Daniel and we get to see the background to Patty's and Daniel's history.

I did not think that anybody could steal this show from Glenn Close but William Hurt is doing it. This the strongest episode so far this season and it includes nothing at all from the 'six months later' portion of things. Instead, it is the performance of William Hurt that drives the episode off the chart and well into A+ territory. He lights the screen up with every single scene (my favourite being the police interrogation scene).

Season 2, Episode 4. "Hey! Mr. Pibb" The killer is caught. And killed. But nothing is quite what is seems...

William Hurt is the best actor on television right now. I am mesmerised by him. Not being much of a movie watcher, I have never seen this man's work before. Now that I have, I am a huge fan.

The script for this episode is superb. There are revelations, twists and shocks that kick you in the gut. Yet, in hindsight, make sense. Still, though, that final revelation (about the events of the night of the murder) totally blew me away. Is Damages the best show on TV? Maybe, but Hurt's definitely the best actor on TV. Watch him. He brings so much to the table: pain, guilt, despair, stubbornness, regret, dignity, and more. And it's all in his eyes.

Season 2, Episode 5. "I Agree, It Wasn't Funny" William Hurt takes a back seat, Tate Donovan directs and Ellen takes centre stage as she goes back to the site of her attack for the first time since the night it happened.

This is also the first episode to devote some screen-time to Walter Kendrick (who appears to be the big bad guy for season two) and Phil Grey (Patti's oft-seen, little heard, husband). With David Costabile (of Flight Of The Conchords) making a return (as the cop/killer from last season) this could be seen as the episode of the little guns (as opposed to the big guns like William Hurt, Glenn Close and Ted Danson). Part of the appeal of this show is the minor characters. We may have thought of Arthur Frobisher as the big bad guy of Season One but, when you come right down to it, Detective Rick Messer is the person who killed David. And since Ellen is our point of focus, as an audience, then that is what concerns us: Ellen finding Messer.

This is also the episode that ended with the obscure 'hit'. We see Wes shooting someone in a car, in the distance, and we have no idea who got killed or when it is happening. Brilliant.

Season 2, Episode 6. "A Pretty Girl in a Leotard" Patti goes on TV and calls Kendrick a murderer, to see if she can provoke a reaction.

Ted Danson is back. It's a really clever, really wonderful twist when Patti starts to use her former enemy to fuel her case against her current enemy. Clever Patti. But how, we wonder, will Ellen react?

The flashforwards show that Rick Messer will enter Ellen's room on the night that she shoots someone. Man, that's one busy night! How on Earth are they going to make all of this make sense?

Season 2, Episode 7. "New York Sucks" The FBI target Uncle Pete as a means towards getting info on Patti.

And he commits suicide. I've sometimes suspected that Pete ordered the hit on Ellen without Patti's knowledge, so it would sweet if she was to find this out long after he was gone and there was nothing she could do to get even with him.

This is a solid, if unremarkable, episode. Several scenes are devoted to fleshing out the character of Kendricks (the major Bad Guy this season) and they are successful. We also get to see more scenes of his minions doing their thing.

Season 2, Episode 8. "They Had to Tweeze That Out of My Kidney" Patti and Tom start to put pressure on the hooker to tell them about the guy she was arrested with.

Brilliant from start to finish. Driven by insights into Patti, Pete and Frobisher.

Patti. We get to see a more human side to Patti in this episode. We see her flashing back to her childhood and being very nice to Pete. We also get to see (in the episode's big revelation) her appearing to be totally terrified of Ellen.

Pete. He didn't die after all, so we get to see him being very defiant (once again) to the FBI guys. We also get to see the return of the guy that came after Ellen, last season, and a brilliant sequence where she nearly meets up with him again.

Frobisher. This guy continues to be utterly fascinating. He's like a big spoiled child most of the time, and this episode shows him being pulled back in by the web he set in motion last season. Being pulled back... against his will.

Season 2, Episode 9. "You Got Your Prom Date Pregnant" Patti goes after the FBI, and discovers that there is no actual FBI investigation into her.

The cryptic flashforwards continue to add much to the series but, at times, they feel like the could be from a different season. With only four episodes left, I have no idea how what we are seeing now will lead to watch we are glimpsing in the flashforwards.

Never mind. This is superb stuff. Patti's husband is brought in the web in this episode and Ellen embarks on her relationship with Wes. I don't believe for a second that Ellen is being fooled here. I'm sure she knows not to trust him.

Pretty sure...

Season 2, Episode 10. "Uh Oh, Out Come the Skeletons" One of the FBI guys gets killed.

Lots to enjoy here. The episode is a big turning point for Claire Maddox. When the episode starts she's devoted to Kendrick and happy that her life has been worthwhile. By the end of the episode she knows that she has been working for a criminal. It's a major turning point for a major character and the show accomplishes it with ease. Conflict with her father to cement her world view (for us) and a revelation from a character she trusts to shake her world.

Meanwhile, the two FBI guys get more and more interesting as one of them gets himself killed.

And, in the 'future' we see Patti leaving the apartment after the shooting...

Again, I have to wonder... how can we possibly reach that point in time with only a couple of episodes left...

Season 2, Episode 11. "London. Of Course." Claire Maddox makes a bid for power and Patti receives some photos...

Very strong episode. Claire Maddox has become one of my favourite characters on the show. The fact that she is outraged by the her boss' evil activities has taken me by surprise and I've been rooting for her over these past few weeks. I hope her defeat/firing this week doesn't mean she is gone from the show. Interesting, too, that the writers choose to bring about her downfall because of her sexuality. A powerful and smart woman being punished for being sexual.

The Ellen/Patti scenes were electric this week. Particularly the final scene where Patti revealed that she knew who sent the photos. That was riveting stuff.

Two episodes left... Seriously, how can they cover enough story next week to bring us up to the flash-forwards?

Season 2, Episode 12. "Look What He Dug Up This Time" Ellen gets tough with Tom, and Daniel confesses...

Glenn Close and Michael Nouri did some fantastic work in this one. Their fight scene almost had me diving for cover.

This was the first episode to show some of the stuff from the flashfowards in taking place in the 'the present' but I still can't see how they will show everything in the one remaining episode.

The revelations in the final minute were shocking. And an example of skillful storytelling. Even as we see one revelation, and reel from it, we are given another revelation that totally undermines the one that went before.

William Hurt would make a great lead in Harry O if they ever decide to remake it.

Season 2, Episode 13. "Trust Me" Ellen and Patti have their final (?) confrontation.

There are about ten incredible twists in this final episode. And I am delighted with eight of them.

Two suck.

Why would Dave Pell tell Patti so much information in that meeting in the church? And how are we supposed to believe that Patti was bleeding to death from a stab wound the whole time she was talking to Ellen? That's just crazy.

I'm trying to focus on all the good stuff, trying to get away from the stuff that bugs me. In general, this was a terrific season finale. The show managed to completely resolve all of it's story lines and I did not think that that was going to be possible.

It's an amazing show. But two of those twists really bug me...