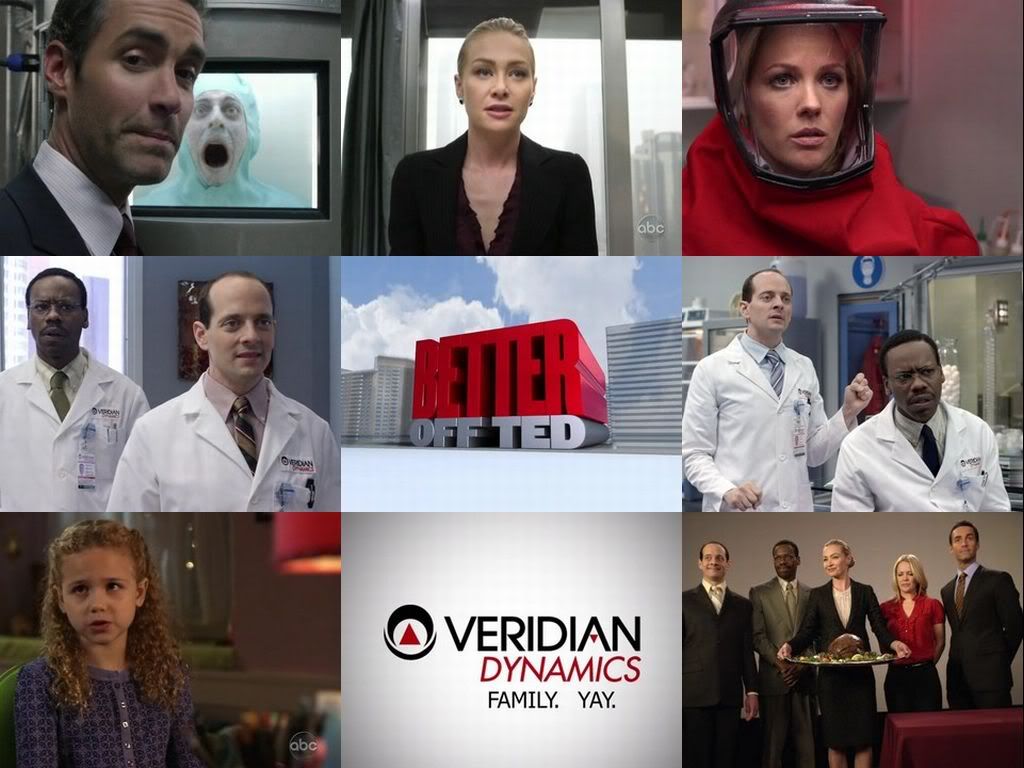 Episode 1. "Pilot" I feel as if Victor Fresco has had a go at bringing back Andy Richter Controls The Universe. And I'm fine with that. This opening chapter is very, very funny and (just like ARCTU) has a fantastic cast.

I really like this.

So, early cancellation is likely :(

Episode 2. "Heroes" I didn't realise that so much of the humour would be in the form of running gags. Sigh. I love it. And this episode made me laugh very heartily many, many times. But, if there is one thing we learned from Arrested Development, it is that people will not watch shows like this. No matter how clever or funny they are. So, all we can do is hope that ABC, at least, show all 13 episodes.

Episode 3. "Through Rose Colored HAZMAT Suits" Ted brings his daughter to work.

The cast are funny and likable, and the stories are fresh and different. It's a comedy unlike any other show on the air and if we lived in a sane world it would be a highly acclaimed hit...

Episode 4. "Racial Sensitivity" Motion sensors that do not see black people.

Which this show has been very funny from the very start, this is the first episode with huge chunks of rewatchable jokes. Scenes and sequences that get funnier when you press rewind and watch them again. Several times over.

I love this cast. They are all fantastic, but Portia de Rossi is the real stand-out. She steals every scene and is the best thing about the show.

Episode 5. "Win Some, Dose Some" Ted and Veronica compete, Linda is accidentally drugged by Lem and Phil.

Five weeks in and everyone has found their stride. This show is a delight. A major high point of the week and something I look forward to very much indeed.

So, of course, it will be cancelled very soon.

Episode 6. "Goodbye, Mr. Chips" Ted is wiped from the company database.

Another winner. This show has a great sensibility. Very anti-corporations. And some of the lines are comedy gold.

A show this good deserves to be a hit.

Episode 7. "Get Happy" Veronica comes up with ways to make the staff 'happier' and make them like her more, while Ted tries to be liked by a demographic group that don't like him.

Another winner. While Portia de Rossi dominates the episode/series and gets all the big laughs here, there are wonderful plots/jokes for Andrea Anders and Jay Harrington.

I honestly thought I would never see a show as good as Andy Richter Controls The Universe, or a show with as good a cast, but this show is a close second.

Now, are we going to get a second season?