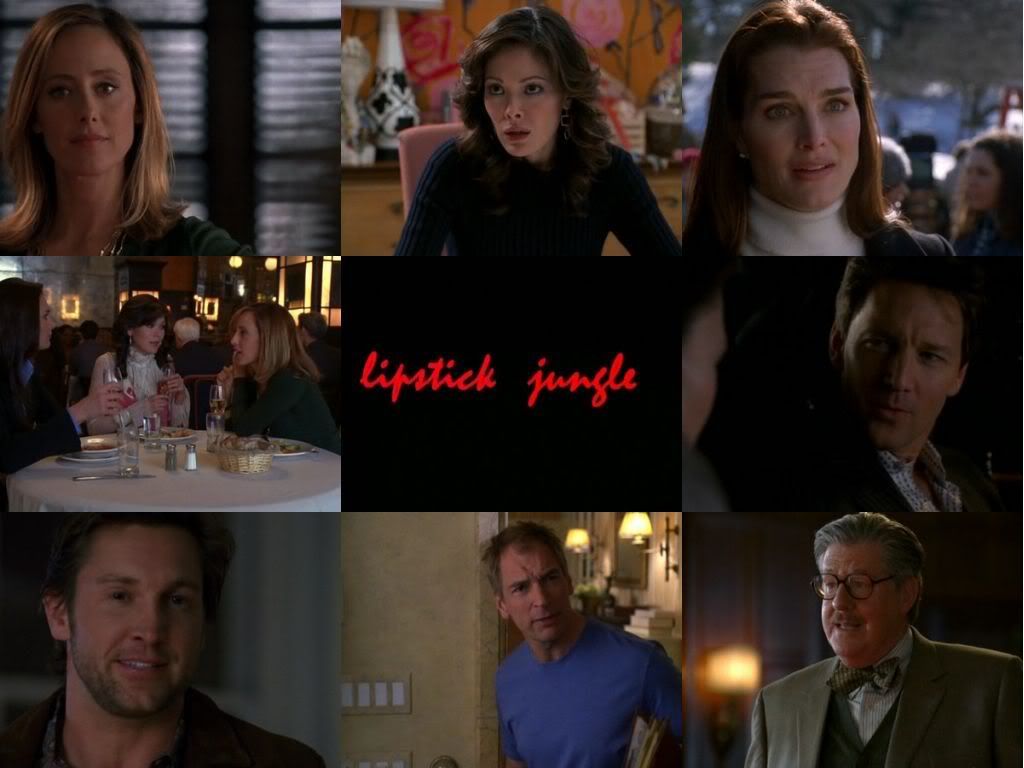 Lipstick Jungle


three powerful/successful women support one another through times of crisis

Type of Pilot:
Soap Opera.
Similar Shows:
Sex And The City
The Inner Light:
It's tough at the top (but it's good to have good friends)
Strengths:
Casting.
Weaknesses:
See this before.
Impressive Characters:
Nico, as played by Kim Raver, is an impressive and interesting character. She's the editor of a fashion magazine and she wants to take over the whole publishing range (about 30 magazines). She's ambitious and, in her private life, her husband barely notices her. She flirts with the idea of a meaningless affair. She's worth watching. Her two friends (the movie producer and the fashion designer) are less so.
Impressive Actors:
Kim Raver is the stand-out here. She's great in every scene. Likewise, Andrew McCarthy owns the camera when he's onscreen with Lindsay Price. He's perfectly cast and I hope he stays around for the series. It would entice me to watch. Maybe.
Less-Than-Impressive Characters:
Christopher Wiehl's character (the whiney husband of Brooke Shields) is weak and annoying. Yes, I know we are supposed to dislike him and all, but he is such a TV cliche. From the moment he appears on-screen we know how he is going to be and we know exactly how that storyline is going to play out. Christopher Wiehl is capable of much better than this.
Less-Than-Impressive Actors:
Julian Sands seems dreadfully mis-cast as Kim Raver's husband. He's a bad husband, yes, but is he meant to be a bad actor. He just didn't seem to be "in" any of the scenes he was in.
Continuity:
Lots, I'll bet. The final minute of the pilot rams the ongoing plots down our throats. Life ain't going to be all that rosey for these gals.
Rewatchability:
It's soap. You watch one episode and move on to the next.
Other Info:
Brooke Shields plays Wendy (a movie studio executive) and Lindsay Price plays Victory (a fashion designer). The three of them have great chemistry and it's not hard to believe that they are life-long friends.
Three Things I Really Like About This Pilot:




Kim Raver.


The woman-in-a-man's-world dynamic that came through in the Kim Raver storyline. It's a crappy old storyline, I know, but it really works with her as the lead actress and it's easy to root for her and want her to win out over the sexist establishment.


Lindsay Price is gorgeous.

Three Things I Really Don't Like About This Pilot:




Brooke Shields' husband.


Brooke Shields' character.


Julian Sands.

Miscellaneous Comments:
Don't know if I'll watch this. Kim Raver is great. Andrew McCarthy is great. Lindsay Price is gorgeous. But Brooke Shields' character was too nice, too bland, and I'm not sure I care about a show about these three friends. Now, if it was just about Kim Raver clawing her way to the top in the world of publishing then I'd watch it ever week. That would be a cool show. This? This is just average.
GRADE:
B