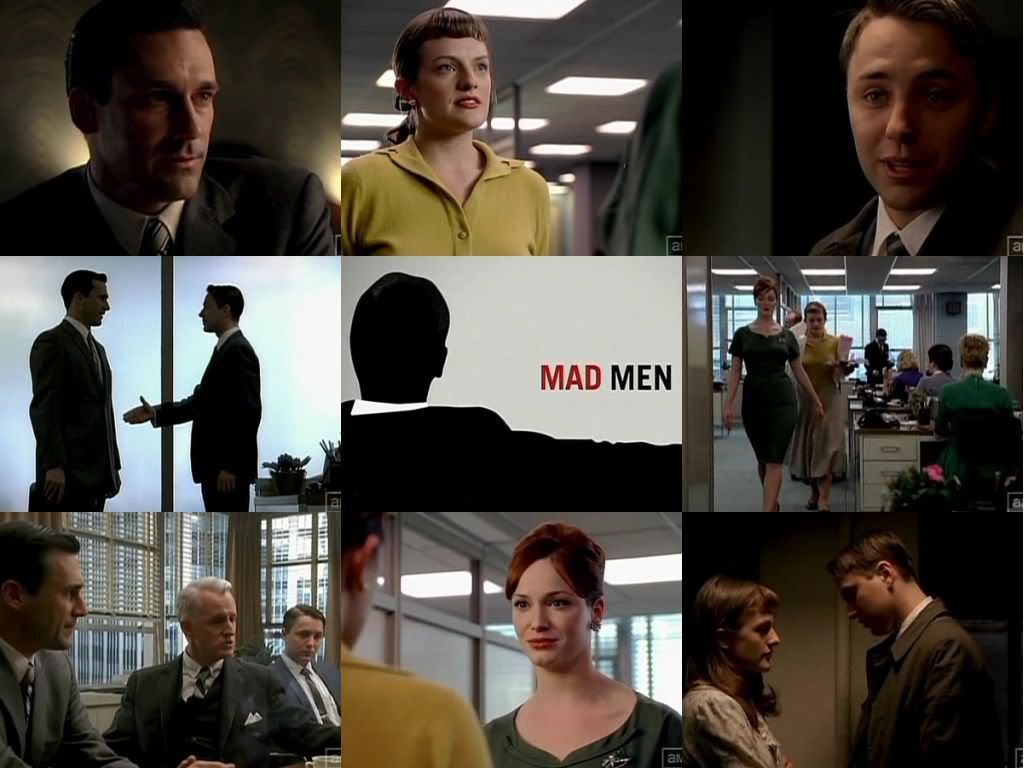 Mad Men


advertising executives, circa 1960

Type of Pilot:
Drama, Soap
Similar Shows:
LA Law (people in suits doing, um, stuff), thirtysomething (we get to see the inner workings of an advertising agency)
The Inner Light:
You can sell anything.
Strengths:
Visual Style, Great Cast.
Weaknesses:
Is it just a soap?
Impressive Characters:
Don Draper is the lynchpin of the pilot. We - mostly - follow him through his work life (and personal life). Don is trying to sell cigarettes, and (since this is 1960-ish) the word is out that they kill. Can he find a campaign that works?
Impressive Actors:
Jon Hamm is a great lead. John Slattery (who was fave of mine in Homefront, too) does a top-notch job as the boss, and Elisabeth Moss stands out at the new secretary at work. This is a sexist world, and we get to see life through her eyes, when we're not with Don, and it's a pretty crap world. Finally, in the acting stakes, Vincent Kartheiser brings new levels of slime to the part of Pete.
Less-Than-Impressive Characters:
Most of the other characters got little screen time in the opening episode, so we don't know much about them, yet. The focus of the show was on Don Draper, the ad writer, and on Peggy, the new secretary.
Less-Than-Impressive Actors:
Nobody fails to rise to the job. Regulars, guests, etc. All doing a top-notch job.
Continuity:
Probably gonna be a lot. I think, for all it's depth, this is a soap at heart.
Rewatchability:
Hard to say. The pilot warrents a re-watch, maybe, because the look of the show is so unique. And classy.
Other Info:
Airs Thursdays at 10pm.
Three Things I Really Like About This Pilot:




Vincent Kartheiser as Pete. He's slime. Great fun to watch.


Jon Hamm as Don. He's heroic. Flawed, certainly, but still the guy we're here to root for.


Rosemarie DeWitt has a small part in the opener. I'm now officially in love with her (following her star-turn in Standoff, so it was great to see her in this. Hopefully getting more screen-time in future episodes. It's a classy show, she's one classy lady, it would make sense to have her on-screen a good bit.

Three Things I Really Don't Like About This Pilot:




We didn't get much of an insight into the character of Joan, the head secretary, played by Christina Hendricks. I'd like to know more about her.


Not enough Rosemarie DeWitt.


Not enough Rosemarie DeWitt.

Miscellaneous Comments:
This is a good show, and I'll stick around for a few episodes. SPOILERS: At the end of the first episode, new girl Peggy sleeps with slimy (and soon-to-be married) Pete. It's a moment for shouting "How Could She?" at the screen worthy of the best of Melrose Place. So that, if nothing else, hooked me and brought me back for episode two. But, having said that, the other revelation at the end of the pilot (Don is married with kids) is also guaranteed to bring viewers back for more.
GRADE: A