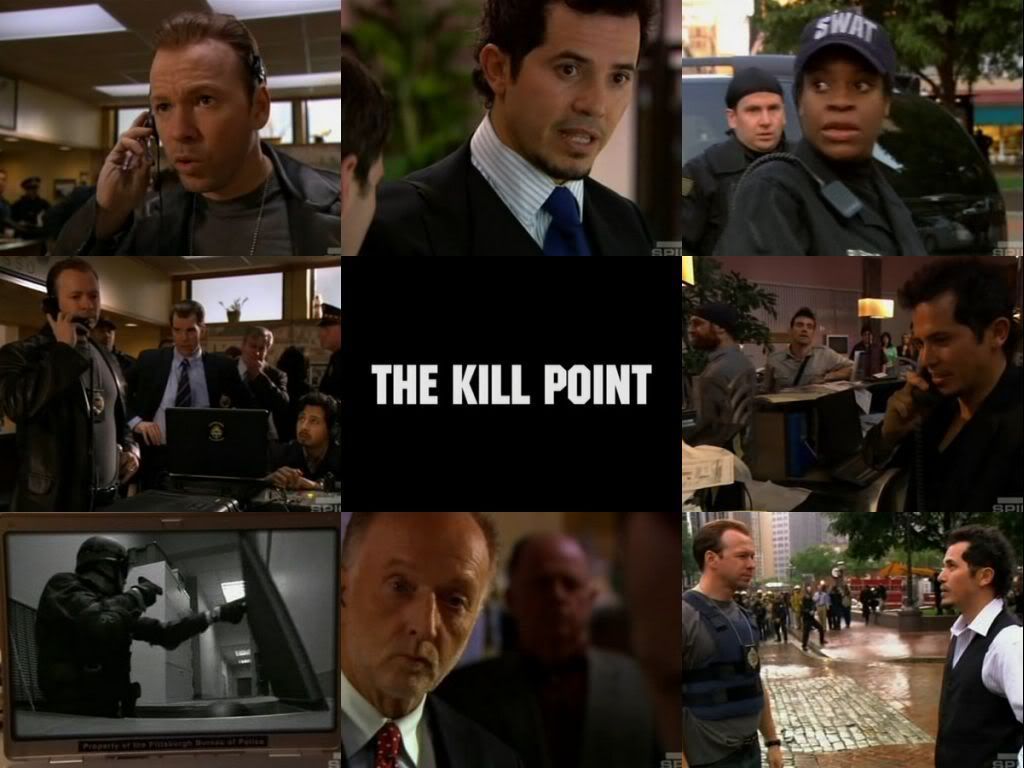 The Kill Point


two men square off during a bank heist gone horribly wrong

Type of Pilot:
Action; Drama
Similar Shows:
24 (it's violent, the story has twists and it all happens against the clock), The Shield (the bad guy is a bit of a good guy and you have to root for him to succeed), Standoff (the hero is a hostage negotiator and a lot of the action takes place over the phone), The Nine (it's about the various people caught up in a bang siege)
Strengths:
Cast, premise, twists
Weaknesses:
We've seen loads of hostage sieges before...
Impressive Characters:
Jake Mendez is the leader of the hostage-takers. He's fascinating. Brutal, but only when he has to be. He bonds quickly with a couple of the hostages. He apologises for what is happening, and he seems to mean it, but - at the same time - he appears willing to kill innocents. But appearances can be deceptive...
Impressive Actors:
John Leguizamo as the bad guy and Donnie Wahlberg as the good guy are head & shoulders above everybody else in this. It's a large cast, and it's a brilliant cast. But these two kick ass. Mention must also be made of Tobin Bell, who plays the dad of one of the hostages. In many ways he is the real baddie of the piece and when his plans go into action things get
really
good...
Less-Than-Impressive Characters:
The hero has a superior looking over his shoulder, acting like a dick and generally ruining everything. We've seen this before too many times and it is the one element here that doesn't quite work.
Less-Than-Impressive Actors:
This cast is, without exception, very very strong.
Continuity:
Yes, it's a serial.
Rewatchability:
Lots. It's violent, fast-moving drama. Well worth re-watching at some future date.
Three Things I Really Like About This Pilot:




Donnie Wahlberg. Ever since Boomtown I have been a huge fan. This guy is brilliant.


Wahlberg's character has an unusual obsession that is (a) original, (b) very funny, (c) a great character insight.


The actions sequences are heart-stopping.

One Thing I Really Don't Like About This Pilot:




The hero's boss being a dick

Miscellaneous Comments:
Superb stuff.
GRADE: A+