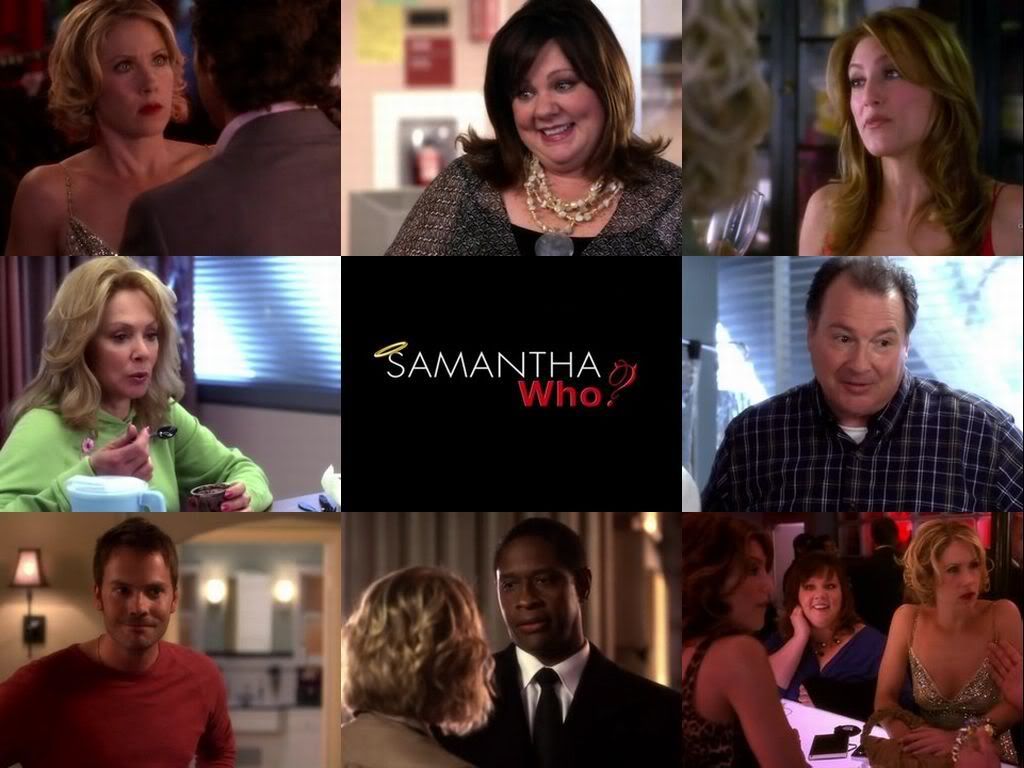 Episode 1. "Samantha Who?" A great pilot. One of the best of the season. Fast moving and funny. Finally, after the unwatchable Jesse, a show that I can watch Christina Applegate in again! She is a very talented funny lady and I've missed her since Married With Children.

Episode 2. "The Job" The top-rated new show of the season hits another one out of the ballpark. Applegate is funnier than I've ever seen. And Samantha is an absolutely adorable (and somewhat manic) character. My favourite parts are whenever she makes her point and then speaks for a little bit too long: "By the time you and I are out of court this place is going to be called Chapman, Funk and Newly. Or just Funk and Newly. [pause] Newly and Funk. [pause] Either way." Dialogue like that is delivered with pitch-perfect gusto from Applegate. Her performance, plus snappy writing, make this an unmissable show. Samantha is the craziest heroine we've had on TV in quite a while. It's great.

Episode 3. "The Wedding" Samantha heads to a wedding in this outing. Her amnesia means she's forgotten who any of these people are (or why they hate her) but that don't stop irrepressible Samantha. She is so so adorable. And the ending to the episode is a stunner. Her ex-boyfriend (possibly waking up to the fact that this is a New Samantha) stares at a picture he took at the wedding. As he gazes at the computer screen, his finger hovers over the "delete" button. Will he delete? Won't he? Freeze Frame: All over. Clever, but "What the frak did he do?" Hmm. I wonder is this how Sopranos fans felt...

Episode 4. "The Virgin" I'm more in love with the character, the actress and the show than ever. Samantha doesn't remember ever having sex, so she sets out (with help from her best friend, mother and stalker) to have some. The show never puts a foot wrong. The laughs come hard and fast, the sentiments are honest and the simmering love-story-arc gets better every week.

Episode 5. "The Restraining Order" While this was the weakest installment so far, it was still very funny, and Samantha was still utterly adorable as she set out to resolve her "Daddy-issues".

Episode 6. "The Hypnotherapist" When the new Bionic Woman was shown to be an idiot in the kitchen, it was annoying and was enough to convince me to stop watching that (horrible) show. But, when we see Sam setting fire to her kitchen, and poisoning herself, it has a completely different effect. It's not just funny, but it plays wonderfully into the character.

Episode 7. "The Hockey Date" was the one where Samantha (the girl with amnesia) asked Todd (her ex-boyfriend) to coach her for a date with Kevin (a potential new boyfriend). And he did it. And it was achingly romantic to watch them together, before she headed off to win Kevin's heart. Sigh.

Episode 8. "The Car" Samantha borrows her father's car, has a minor accident and decides to cover it up by making it appear that the car was stolen. Result? "Samantha Who?" delivers it's best episode so far. There hasn't been an episode yet that has been this laugh-out-loud funny, and there's hasn't been an episode yet that has had this much genuine heart.

Watching Andrea terrify Dena was a lot of fun, but the best bit of the entire episode was when Samantha stepped out of the car after telling her mother what she had done. Christina Applegate was so so perfect in this scene. Her every line of dialogue was a delight. Her facial expressions, her body language. She's amazing.

Episode 9. "The Break-Up" The show that America has forgotten continues to produce quality comedy week-after-week. Samantha finally has sex. It might be obvious what lessons she is supposed to be learning this week, but the show takes a wonderful turn at the mid-point. Suddenly, it turns out that the wacky sub-plot (about her secretary) is themeatically the same!! This is a very skilfully written show. And - while this was not the funniest episode so far - it also a laugh-out-loud funny show.

Episode 10. "The Girlfriend" After a very funny start the episode gets too crazy to be believed. A crazy plot-device means that Samantha must move in with her ex-boyfriend and his new girl! Too silly for me. And, sadly, not funny at all. Definitely the weakest episode so far.

Episode 11. "The Boss" Much better than last week. It's sadly lacking in laugh-out-loud moments, but a strong storyline has Timothy Olyphant showing up as a new suitor in Samantha's life.

Episode 12. "The Butterflies" While this is a funny episode, it highlights some of the problems that the show is having. A good situation comedy series should find that the situation generates the stories. Yet, in this episode, the story is driven by the fact that Samantha's boss (Rick Hoffman) falls in love with Samantha's best friend (Samantha, of course, is tempted to use this for her own ends). And while the laughs are there, it is a bit hard to swallow the way in which the episode starts. It's not quite as bad as the loopy idea that had Samantha moving in with her ex-boyfriend and his new girlfriend! That strained credulity to the limits! This wasn't so bad, and did lead to some laughs. The most laughter, however, was generated by Jennifer Esposito who can make me laugh by just turning around and mugging the camera. She's fantastic.

Episode 13. "The Gallery Show" The one where Sam brings a mugger to her ex-boyfiend's gallery show. Ha! If that doesn't make you smile nothing will. As usual, this show wears it's heart on it's sleeve: Sam has been telling everyone for 13 episodes that she has changed, and now she is face to face with someone who also claims to have changed. Will she believe him?

Episode 14. "The Affair" As the end of the season looms near, the show seems to have found it's groove. It's not quite as fantastic as the early episodes but it's still a good show. Christina Applegate, Jennifer Esposito and Melissa McCarthy are three great leads. Each one gets laughs and it's great fun watching them every week. The show's only flaw seems to be generating story ideas. They seem to be clutching at straws to come up with ideas. This episode's storyline comes from the first chapter of Standard Sit-Com Plots. Sam thinks that her mom is having an affair. Sigh. It's dumb. And the twist ending is dumb, too. But, I have to be honest and say I was chuckling and laughing all the way through the episode and that's enough to keep me watching.

Episode 15. "The Birthday" ends the first season with Sam's birthday party. No crazy plots this time out, just a nice character-driven tale about Todd's inability to be out of a relationship for any length. So, it turns out that Sam is not the only one that needs to change... That's a nice way to end the season: seeing how the 'new' Sam is having an impact on her circle of friends (echoed in the fact that her mum and best friend have a civilised chat for the first time, and the doorman drops by at her party).




Reviews from A Briefing With Michael.