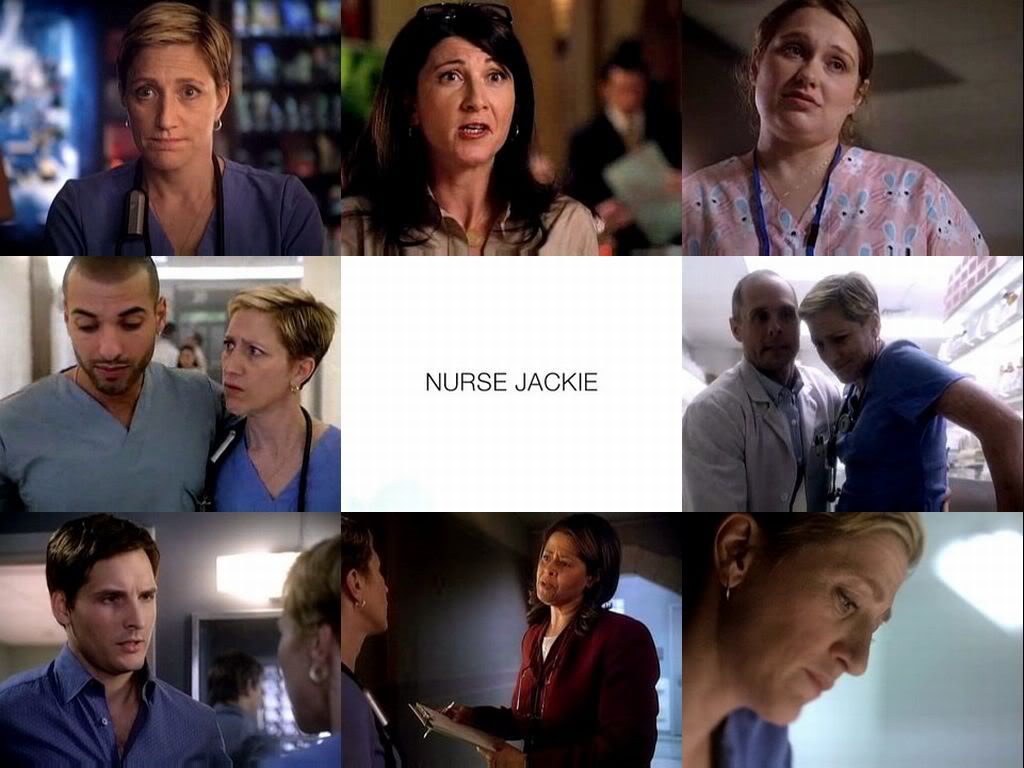 Nurse Jackie


day in the life of a nurse


Type of Pilot:
Medical Drama
Similar Shows:
St. Elsewhere
The Inner Light:
Small victories in a crap day.
Strengths:
Edie Falco
. She's really good. Really likeable (much more than the character is). She is the show, and the show is her. Like her and you'll probably like the show. Also:
Paul Schulze
. He only has a couple of scenes but he makes a strong impact. I like the guy. He was on
24
and
Journeyman
.
Weaknesses:
It's not the first grim and gritty medical drama and - except for
Edie Falco
I'm not sure why I'd care about this one. If you aim for the same territory as
St. Elsewhere
you are aiming pretty darn high, so you'd better have the goods to back it up.
Impressive Characters:
Jackie Peyton herself is the only really interesting character. And the pilot is really a character portrait of her. We watch her get through a day. Cope with patients dying due to inept doctors, cope with her own weaknesses, cope with grieving family members and find ways to do some good (mostly by bending the rules). She's basically a good person, I think, but seriously flawed which is what makes her interesting and worthy of a TV series to follow her 'adventures'. Her flaws are shown, I think, as flaws and the pilot certainly offers up no excuses for her. She's not perfect and that's it. But, at least, she tries to do a few good things along the way.
Impressive Actors:
Edie Falco
and
Paul Schulze
stand out. I never watched The Sopranos past the pilot, but I saw her on
30 Rock
. The woman has star quality. And she could do better than this show.
Less-Than-Impressive Characters:
The rest of the characters are ignored in this opening episode. Which is fair enough. The first episode is about Jackie. I understand that. We get brief character sketches of the others: smart-talking female doc, over-eager student nurse, gay best friend, nice guy lover, pretty-boy idiot doc and stern hospital administrator. Nothing in the pilot to interest me in any of these. Early days. I'm sure the show will flesh them out. The priority is making Jackie interesting and they managed to do that.
Less-Than-Impressive Actors:
Seems like a solid cast all the way through.
Continuity:
Probably be mild.
Rewatchability:
Zero. Watched this once. I'll either watch Episode Two next or nothing. No real reason to go back and watch this specific half-hour pilot again.
Other Info:
Check out the review at
The Futon Critic
.
Three Things I Really Like About This Pilot:




Jackie Peyton

Three Things I Really Don't Like About This Pilot:




It's yet another grim, gritty medical drama.


Not enough fleshing out of the supporting characters. Yes, I know it's a pilot and only a half-hour long, I'm just saying, that's all...


Not enough Paul Schulze. Seriously. The guy is barely on camera. Yet his is the closest thing the show has to a genuinely nice character. Although he has flaws, too.

Miscellaneous Comments:
I like
Edie Falco
and I like the lead character. I'm not sure I'll go back to this hospital, though, to see the (grim) daily grind. Jackie is likable because of Falco. I'm not sure another actress could make me care about the character. And if it's not in the writing, should I bother going back for more?
GRADE: B+